Using emojis in your social media marketing strategy is simply a masterstroke that goes unnoticed most of the time. You need to understand that it may be all fun and games when you add that emoji but it may increase your engagement rate. CMO Adobe states that 92% Of the world's online population uses emojis. That stat alone is impressive and if you're not already researching how you can add this in your social media strategy you are losing out. 
Take a look at why you should consider using emojis👍
Emojis Are Universal👍
Emojis are completely universal meaning that they can be understood the same way in each country. People from all walks of life have adopted emoji. It matters not whether your native tongue is English, Finnish or Japanese: the smiley face means the same thing in every language.
For example McDonald's, that smiley face is universal even the roadside construction.
What can you take away from this:
Use familiar and recognisable emojis
Keep it simple and fun with a little professionalism
Emojis humanize your brand
Emojis Are Most Likely to Increase Engagement👍
Engagement is crucial to any business. The engagement we refer to in this instance are likes, comments, and shares.
According to Quintly, use of emojis increase engagement by a whopping 48% on Instagram. Posts that use emojis on Instagram have interaction rate of 2.21% while posts without emojis have 1.77%.
If those stats don't make you consider emoji use then I don't know what will.  Furthermore, tweets with emojis received 25.4% more engagement than the other tweets. Yet again we see the power of emojis.
The reason why we believe emojis increase engagement is that:
They humanise your posts. By this, we mean that they add a face to the digitalised content.
They are easy to understand and we respond faster and easier to them and the picture below represents that. The fact that they are friendlier than words make them rather a must-have in your posts.
Emojis Enhance You Marketing Campaigns👍
The successful social media manager or advertiser will implement emojis seamlessly into their strategy.  You need to be creative, fast, up on trends and different if you want to capture more minds and eyeballs for your business.
Lets take a look at effective emoji campaigns:👍👍👍
WWF integrated emojis into their #EndangeredEmoji Twitter campaign in aid of saving animals from extinction. They created 17 emojis for endangered animals and encouraged users to donate 10p every time they retweeted one.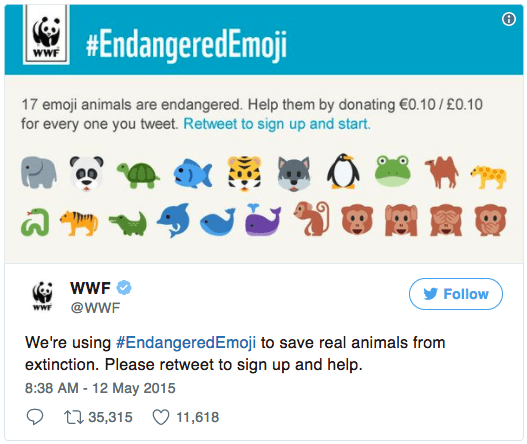 WWF's #EndangeredEmoji Twitter campaign received around 559,000 mentions and more than 59,000 signups in the first three months since it was released.
Deadpool
Using the "Poo" emoji really helped this movie sell. The fact that they used 3 emojis to spell out 'Deadpool' in a humorous and creative way, was a masterstroke into the world of emojis.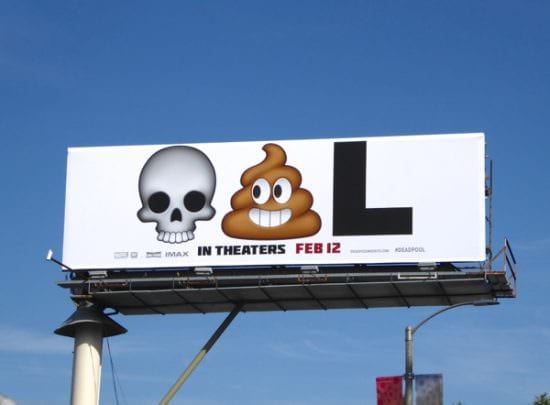 In 2014 Taco Bell's marketing agency lobbied Unicode Consortium for a taco emoji to be made available for Android and iOS.
The result:
The Emoji Movie
Even though people didn't enjoy this movie it showed one vital point. That is Emojis are important if companies spent million creating this "not so well received" movie. There's a buzz somewhat when you use an emoji and that is the reason that this movie was made.
Below is an infographic from MediaUpdate and it shows the need of emojis in your plan.👍
 You Can Hashtag an emoji on Instagram 🙏
We love this feature. As you can see it tells you many times the dog emoji has been used.

Emoji Statistics👍
The Most Confusing Emojis

Emoji Popularity: Unicode
Emoji-Related Tools We Love To Use at Heropost  👍
Emojipedia. This is Wikipedia for emojis. It will contain a lot of information regarding the appropriate emojis and their meanings.
Emoji Tracker. This real-time stats site monitors the popularity and usage of emojis on Twitter. Important for when you want to see which is the emoji of the day.
Emoji. Muan. Great at showing what some emojis mean.
We hope you liked this article on Using Emojis in Social Media Marketing.  Emojis are a real thing. They have the potential to increase user engagement. We hope you use them in your next marketing campaign.
[/vc_column][/vc_row]